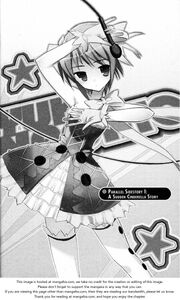 Parallel Sidestory I: A Sudden Cinderella Sidestory is a Haruhi Suzumiya Manga chapter in volume 8. It takes place in an alternate universe and serves as a companion piece to "The Disappearance of Haruhi Suzumiya".
Book Info
Edit
SO3 Studio ("Save the World by Overloading it with Fun by Blowing up the Earth 3 times") is struggling. It consists of president Haruhi Suzumiya, vice president Itsuki Koizumi, unpopular idol Mikuru Asahina, and "menial tasks" Kyon.
Looking out the office window, Haruhi spots a woman in the street, declares she has an incredible amount of talent, and rushes outside to tell her to join the studio. The woman says "understood". Haruhi gives her the stage name Yuki Nagato without ever asking her real name, saying they must have a bond from a previous life. "Nagato's" lack of background or even real name help make her famous, along with her being a "tight-lipped, stone-faced, doll-like idol".
A year later Kyon asks her who she is. She says she has taken the option of observing a parallel world on an identical time axis. Her explanation confuses him. She says this stratum had been low priority, but now the situation has reached a critical level and can no longer be neglected. She tells him she will retire, and vanishes without a trace.
The SO3 Studio has to start over as a poor studio. Haruhi resolves to find the star of tomorrow.
 

Haruhi Suzumiya Manga Volumes
Volumes
Individual
chapters

Volume 3:

Knowing Me, Knowing You

, Volume 4:

Mystérique Sign Returns

, Volume 5:

A Perspective of Life from Shamisen

,

Get in the Ring

, Volume 6:

Show Must Go On

,

Tales From The Thousand Lakes

, Volume 7:

The Day of Sagittarius Aftermath

, Volume 8:

Parallel Sidestory I: A Sudden Cinderella Sidestory

,

Parallel Sidestory II: Mikurion Dollar Baby

, Volume 9:

The Disappearance of Haruhi Suzumiya: Epilogue

,

Parallel Sidestory III: The Message from Meiji 38, All Clear Out Here

, Volume 11:

Red Data Elegy

, Volume 12:

The Disappearance of Haruhi Suzumiya ~Another Day~

(

Intrigues

prologue), Volume 13:

Welcome to the House of Terror

Official
Spinoffs
Official
Parodies
Third-Party
Anthologies
Others
Community content is available under
CC-BY-SA
unless otherwise noted.