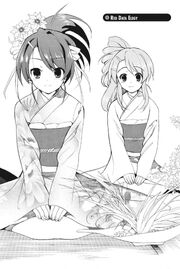 Red Data Elegy is a Haruhi Suzumiya Manga chapter in volume 11.
The story starts on New Year's Day (year 1), immediately after Where Did the Cat Go? at one of Tsuruya's villas. Kyon comments that he prefers to celebrate in proper Japanese fashion, which he implies is due to laziness, but Haruhi Suzumiya insists on excitement instead.
At the villa was a shrine, which Tsuruya's "crazy grandad" had built. It was the only thing he took seriously. Haruhi was enthused since, unlike a more public shrine, there was no crowding.
Haruhi created an SOS Brigade kite with the unmodified SOS logo. She had forced the Computer Research Society to print the banner, with Yuki Nagato's help. The Brigade took the kite with them as they skied, but the string broke. They followed the free-flying kite to the base of a mountain, where they encountered a wolf. Kyon thought it might be intelligent. It got them to follow them to a hidden, abandoned shrine. The Brigade found the kite there, along with a pup with a wounded leg. Kyon noted this was "too convenient".
They brought the pup back to the villa for medical treatment. Itsuki Koizumi, noticing something unusual about the wolf, apologized to Kyon for not being fast enough to stop Haruhi from printing that banner. At the villa, Arakawa treated the wolf pup. He claimed it had been shot by a hunting rifle. The mother returned, and the pup walked away with it.
Koizumi discovered the wolf was actually an extinct Japanese wolf, and noted there weren't any hunters around to explain the injury.
Both shrines had an unusual mark on them. When Kyon asked Tsuruya about that, she said the shrine had been moved, despite opposition. She seemed not to know about the hidden shrine.
Koizumi spoke of an animal's self-centered world, and believed their world, having been created by Haruhi, was similar and partly illusory. He said this explained why the world was so conveniently set up for humans. Koizumi said extinct animals may have been excluded from this world, or their knowledge excluded from humans, but that Haruhi's powers allowed humans to see strange things.
Koizumi also denied that Arakawa realized the wolf was an extinct Japanese wolf despite treating it. Kyon believed that Koizumi was "playing dumb".
 

Haruhi Suzumiya Manga Volumes
Volumes
Individual
chapters

Volume 3:

Knowing Me, Knowing You

, Volume 4:

Mystérique Sign Returns

, Volume 5:

A Perspective of Life from Shamisen

,

Get in the Ring

, Volume 6:

Show Must Go On

,

Tales From The Thousand Lakes

, Volume 7:

The Day of Sagittarius Aftermath

, Volume 8:

Parallel Sidestory I: A Sudden Cinderella Sidestory

,

Parallel Sidestory II: Mikurion Dollar Baby

, Volume 9:

The Disappearance of Haruhi Suzumiya: Epilogue

,

Parallel Sidestory III: The Message from Meiji 38, All Clear Out Here

, Volume 11:

Red Data Elegy

, Volume 12:

The Disappearance of Haruhi Suzumiya ~Another Day~

(

Intrigues

prologue), Volume 13:

Welcome to the House of Terror

Official
Spinoffs
Official
Parodies
Third-Party
Anthologies
Others
Community content is available under
CC-BY-SA
unless otherwise noted.