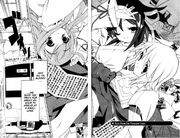 Tales From The Thousand Lakes is a chapter of the Haruhi Suzumiya Manga, volume 6. The story concerns an adventure the SOS Brigade have while picnicking at two lakes. Unlike most of the stories exclusive to the manga, it is not a spinoff of or expansion to an existing story from the light novels, though it is explicitly set shortly after "Live Alive".
Book Info
Japanese
English
Summary
The SOS Brigade travel to a pair of lakes an hour by train from the city for a picnic. The three girls rent and dress in priestess costumes. Mistaking them for real priestesses, a young girl asks them to help find her brother, who she became separated from while hiking. Wanting to nurture the girl's hopes and dreams, Haruhi proposes to bring him back with prayer to the local water god. She and Asahina "pray" with the little girl while Koizumi, Kyon and Nagato go searching for the little boy. They find the boy's backpack floating in the water.
Koizumi searches the shore while Kyon and Nagato rent boats. Fog rises over the water. Nagato tells Kyon that the boy has vanished from space-time. Meanwhile, Koizumi finds the child. He calls Kyon over and puts him on a boat. They tell the boy to pretend he has memory loss, in order to preserve the idea that he was returned by the water god for his sister. As Kyon brings the boy to her, the lake begins to glow, and the light interacts with the fog to create the optical illusion of a dragon. Koizumi later reveals the boy had suffered actual memory loss.
On the train, Kyon asks Nagato what she did to bring the boy back to space-time, and she replies "Beats me." She says there was already a distortion affect connecting the lakes, and she removed it, but to do more would have been "sacrilege".
 

Haruhi Suzumiya Manga Volumes
Volumes
Individual
chapters

Volume 3:

Knowing Me, Knowing You

, Volume 4:

Mystérique Sign Returns

, Volume 5:

A Perspective of Life from Shamisen

,

Get in the Ring

, Volume 6:

Show Must Go On

,

Tales From The Thousand Lakes

, Volume 7:

The Day of Sagittarius Aftermath

, Volume 8:

Parallel Sidestory I: A Sudden Cinderella Sidestory

,

Parallel Sidestory II: Mikurion Dollar Baby

, Volume 9:

The Disappearance of Haruhi Suzumiya: Epilogue

,

Parallel Sidestory III: The Message from Meiji 38, All Clear Out Here

, Volume 11:

Red Data Elegy

, Volume 12:

The Disappearance of Haruhi Suzumiya ~Another Day~

(

Intrigues

prologue), Volume 13:

Welcome to the House of Terror

Official
Spinoffs
Official
Parodies
Third-Party
Anthologies
Others
Community content is available under
CC-BY-SA
unless otherwise noted.