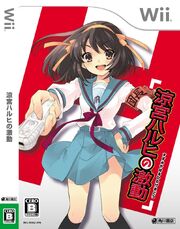 The Excitement of Haruhi Suzumiya (Suzumiya Haruhi no Gekidō) (涼宮ハルヒの激動) is a Haruhi Suzumiya Video Game published by Kadokawa Shoten. It was released for the Wii in 2009 and has mulitplayer content for up to 6 players. It is not to be confused with The Fierce Fighting of Haruhi Suzumiya (涼宮ハルヒの激闘, Suzumiya Haruhi no Gekitou), a canceled fan fighting game for the PC. As with other video games from the Haruhi Suzumiya series, except Day of Sagittarius III (an iOS game), this game was only released in Japan.
Game Info
Edit
Released: January 22, 2009
Console: Wii
Gameplay based on exercise and dance.
Playable Characters
Edit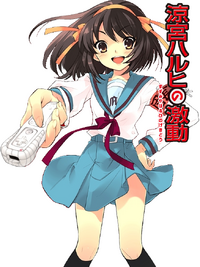 Future Mikuru Asahina
Emiri Kimidori
Koi no Mikuru Densetsu
Bouken Desho Desho?
Yuki, Muon, Madobe Nite
Miracle Encore
Greed's Accident
Kuuzen Miman wa Misenaide
Saikyou Pare Parade
Toroden
Hare Hare Yukai
External Link
Edit
Community content is available under
CC-BY-SA
unless otherwise noted.