This page is for the manga, see here for the disambiguation page.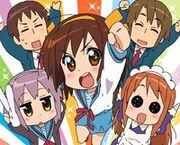 The Melancholy of Haruhi-chan Suzumiya (涼宮ハルヒちゃんの憂鬱), drawn by Puyo, was first published July 26, 2007 in Japan. Eleven Japanese volunes have been released so far.
The series, serialized in Shōnen Ace, came to end on December 26, 2018.[1]
A related comic, The Melancholy of Suzumiya Haruhi-chan Nano Branch, consisting of a smaller number of characters from this manga, also exists.
The manga was also released as a series of tankobon volumes. The 12th and last was issued on May 2nd, 2019 and contains a Haruhi Suzumiya short story by Nagaru Tanigawa, The Returning Favor of Haruhi Suzumiya.
Description
Edit
The Melancholy of Haruhi-chan Suzumiya is a parody manga that takes place in both 4-coma and traditional formats. The series has been serialized in The Sneaker and Shounen Ace. It takes the characters from the original series and places them in humorous situations. It has been adapted into an original net animation by Kyoto Animation in 2009.
Book Info
Edit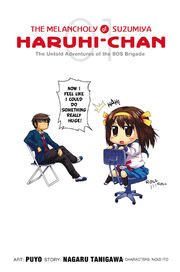 If you thought the SOS Brigade's adventures couldn't get any more outrageous...you've never met Haruhi-chan! Nagato has gone otaku! Asakura is her pint-size prisoner/plaything! Mikuru's so cute she turns into a sheep! You'll find plenty of gags and guffaws as Haruhi dives into the world of four-panel and short comics!!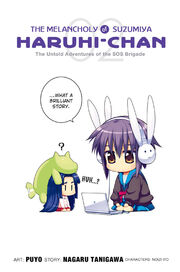 It's another crazy-exciting day for Haruhi-chan and the SOS Brigade!
Haruhi-chan never runs out of ideas for fun new activities with the SOS Brigade (attendance mandatory). It's a busy time for everyone: going to the beach, taking scenic hikes...moongazing in sexy bunny-girl outfits?! What will Haruhi think of next?! You'll find plenty of gags and guffaws as Haruhi dives into the world of four-panel and short comics!!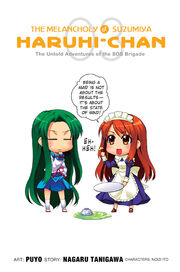 Peace and quiet are overrated! Bring on the aliens, time travelers, and espers!!
Kyon and company are given a brief moment to relax as reality shifts and Haruhi-chan suddenly disappears! But it's not long before the fearless leader of the SOS Brigade is back in action with a head full of all-new outrageous ideas! Whether it's making friends with demons, holding eating contests, or organizing questionable Setsubun festivities, you'll find plenty of gags and guffaws as Haruhi dives into the world of four-panel and short comics!!
You just can't rein in the fun when Haruhi-chan's involved!!
Normally April Fool's Day is a time for good-natured pranks, but with Haruhi's power, any trick she pulls could threaten reality as we know it! While Koizumi struggles to organize the SOS Brigade to prepare for her antics, Haruhi is busy thinking up ways to recruit new members! Given the supernatural crowd already gathered in the clubroom, who knows what type of person Haruhi will summon to the SOS Brigade next?! If anyone shows up at all!! You'll find plenty of gags and guffaws as Haruhi dives into the world of four-panel and short comics!!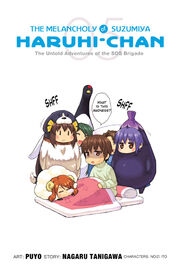 Say Haruhiiiiiii!
As if he doesn't have enough to deal with during the day, Kyon's dreams are becoming a regular haunt for his SOS friends! Once again, lucky(?) omens hawk, eggplant, and Mount Fuji (played respectively by Tsuruya, Nagato, and Koizumi) make an appearance, but their promises of fortune never seems to play out for Kyon. All he ever gets is more of Haruhi-chan's antics! You'll find plenty of gags and guffaws as Haruhi dives into the world of four-panel and short comics!!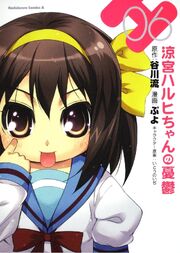 No matter the time of year, it's always open season for silliness with Haruhi-chan and the SOS Brigade!
Hunting down aliens, espers, and time travelers is a full-time job. Whether she's making her first visit to a shrine on New Year's, hanging out at the beach over the summer, or revamping Christmas with a new look for Santa, Haruhi-chan is forever seeking new ways to overload the world with fun!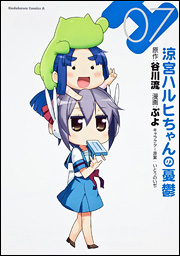 What fate does the future hold for Kyon and Haruhi?!
Koizumi and his fellows from the Agency are constantly cooking up ways to gently (*ahem*) encourage romantic feelings between Kyon and Haruhi, but Koizumi's holiday board game tests the very limit of Haruhi and Kyon's acting abilities! Thankfully there's plenty of other holiday fun to be had, including the many fine offerings of autumn and the dawn of a new year (spent dodging Koizumi's machinations)!! You'll find plenty of gags and guffaws as Haruhi dives into the world of four-panel and short comics!!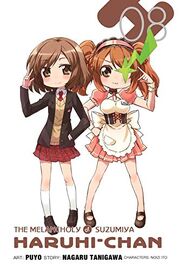 Is it too much to ask for a little peace and quiet around here?
I mean, it's cool that my old pal Sasaki showed up out of the blue, but now Mori-san's blackmailing Tachibana, Fujiwara's being a general pain in the butt, and Kuyoh--who's a cat for some reason --is clinging to Kimidori-san. Amid the chaos, the SOS Brigade's final line of defense and the individual most responsible for my own sense of well being, Nagato, is downright...cheerful? More characters, more gags, and more narration from Kyon in this volume!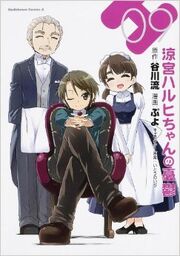 It's a shock that there's a freshman willing to take on Haruhi's Brigade Entrance Examination!
But it's just as much a delight to finally have someone willing to fight against the tyranny of the straight man... Or so one would hope. With Yasumi Watahashi now on the scene, Kyon's straight man game is soaring to new heights, Asahina is going crazy, and Haruhi is acting more like a Brigade Chief than ever before! And what of the feline-ified Kuyoh at Nagato's house--when Kyon faces off with her, what could his fate possibly be!?
Volume 10
Edit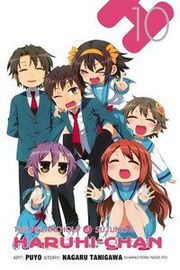 Huzzah! There are now ten volumes of Haruhi gags!
Between the SOS Brigade, the Sasaki Brigade, the Nagato household, and the members of the Agency, the tenth volume of the comedic misadventures of Haruhi and friends is more crowded than ever. Between dream interpretation, high school hijinks, and popularity contests, it's everything you would expect from Haruhi--and less, and more, and--well, you know. Long live Haruhi!
Volume 11
Edit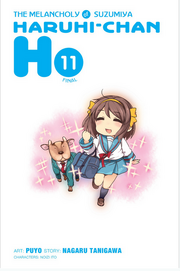 Coming up on Haruhi-chan: In breaking news, North High students are turning up to class wearing nothing but their swimsuits?! The Agency reports a new kind of Celestial is wreaking havoc on the city! And a local student organization is completely reinventing itself for its Volume 11 debut! You won't want to miss it!
Characters
Edit
External links
Edit
Guides
References
Edit
 

Haruhi Suzumiya Manga Volumes
Volumes
Individual
chapters

Volume 3:

Knowing Me, Knowing You

, Volume 4:

Mystérique Sign Returns

, Volume 5:

A Perspective of Life from Shamisen

,

Get in the Ring

, Volume 6:

Show Must Go On

,

Tales From The Thousand Lakes

, Volume 7:

The Day of Sagittarius Aftermath

, Volume 8:

Parallel Sidestory I: A Sudden Cinderella Sidestory

,

Parallel Sidestory II: Mikurion Dollar Baby

, Volume 9:

The Disappearance of Haruhi Suzumiya: Epilogue

,

Parallel Sidestory III: The Message from Meiji 38, All Clear Out Here

, Volume 11:

Red Data Elegy

, Volume 12:

The Disappearance of Haruhi Suzumiya ~Another Day~

(

Intrigues

prologue), Volume 13:

Welcome to the House of Terror

Official
Spinoffs
Official
Parodies
Third-Party
Anthologies
Others
Community content is available under
CC-BY-SA
unless otherwise noted.