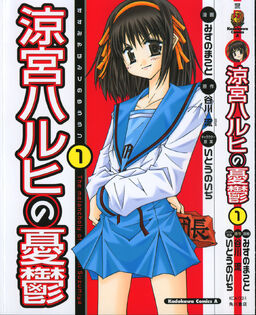 The Melancholy of Haruhi Suzumiya (涼宮ハルヒの憂鬱, Suzumiya Haruhi no Yūutsu) is a manga series by Mizuno Makoto (みずの まこと). It ran from May to December 2004 (one volume, five chapters) prior to the "main" manga. It was published with limited input from Nagaru Tanigawa and strayed considerably from the light novels.[1]
Haruhi Suzumiya starts the SOS Brigade, and several strange things happen.
Chapters:
1-Suzumiya Haruhi and the SOS Dan enliven the World!
3-A Trip through the City
Story Summary
Edit
Chapter 1 tells the story of how Kyon inspired Haruhi to create the SOS Brigade. Chapter 2 is about Nagato telling Kyon about her true identity and Haruhi getting a computer for the Brigade. Chapter 3 is about Kyon going with Mikuru to the city to look for strange beings, and Mikuru tells him her true identity and that Haruhi can destroy the world. Chapter 4 is about Kyon going back in time to meet a younger Haruhi, and lets her come to North High. Chapter 5 is about the Brigade playing baseball.
Changes in story from the Novels
Edit
This manga changed several things from the light novels:
Kyon is more outgoing and friendly.
Haruhi does not sexually harass Mikuru as much as she did in the novels.
The manga doesn't include the storyline from the first novel where Mikuru plays with Kyon, and Haruhi gets mad and creates a closed space.
The celestials look different in the manga compared to the novels.
The stories are in chronological order-that is, they are not presented in order in which the novels were released.
Tsuruya-san, Taniguchi, Kunikida, and Kyon's sister are present, but they all play a very small role in the overall manga.
The manga was published with limited input from Nagaru Tanigawa and strayed a very small bit from the light novels.
Even though Noizi Ito wrote a message on the back on the manga to the readers, she didn't know the manga existed until recently.

References
Edit
↑ Haruhi Suzumiya Manga by Mizuno Makoto. The later Gaku Tsugano version was declared the "first" manga, effectively removing Mizuno Makoto's version from canon.
 

Haruhi Suzumiya Manga Volumes
Volumes
Individual
chapters

Volume 3:

Knowing Me, Knowing You

, Volume 4:

Mystérique Sign Returns

, Volume 5:

A Perspective of Life from Shamisen

,

Get in the Ring

, Volume 6:

Show Must Go On

,

Tales From The Thousand Lakes

, Volume 7:

The Day of Sagittarius Aftermath

, Volume 8:

Parallel Sidestory I: A Sudden Cinderella Sidestory

,

Parallel Sidestory II: Mikurion Dollar Baby

, Volume 9:

The Disappearance of Haruhi Suzumiya: Epilogue

,

Parallel Sidestory III: The Message from Meiji 38, All Clear Out Here

, Volume 11:

Red Data Elegy

, Volume 12:

The Disappearance of Haruhi Suzumiya ~Another Day~

(

Intrigues

prologue), Volume 13:

Welcome to the House of Terror

Official
Spinoffs
Official
Parodies
Third-Party
Anthologies
Others

Mizuno Makoto's 2004 Version
Community content is available under
CC-BY-SA
unless otherwise noted.