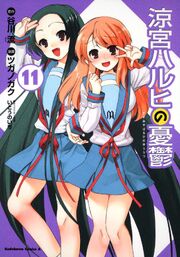 The Melancholy of Haruhi Suzumiya Part 11 (涼宮ハルヒの憂鬱 XI) (Suzumiya Haruhi no Yūutsu IX) is a Haruhi Suzumiya Manga volume.
Book Info
Edit
Japanese
Edit
Release date: April 26, 2010
Release date: February 28, 2012
Trapped on the snowy mountain by both a storm and the supernatural forces that have cut off Yuki from the Data Overmind, Kyon is roused from sleep by Asahina slowly unbuttoning her nightshirt as she climbs into his bed! Kyon realizes it cannot possibly be the real Asahina (darn!), and though he doesn't mind the house's tricks (who would?), he and the Brigade have to crack the code and escape fast before Yuki's fever (and Haruhi's restlessness) gets out of control!
Snowy Mountain Syndrome III
Snowy Mountain Syndrome IV
Where Did The Cat Go? I
Where Did The Cat Go? II
 

Haruhi Suzumiya Manga Volumes
Volumes
Individual
chapters

Volume 3:

Knowing Me, Knowing You

, Volume 4:

Mystérique Sign Returns

, Volume 5:

A Perspective of Life from Shamisen

,

Get in the Ring

, Volume 6:

Show Must Go On

,

Tales From The Thousand Lakes

, Volume 7:

The Day of Sagittarius Aftermath

, Volume 8:

Parallel Sidestory I: A Sudden Cinderella Sidestory

,

Parallel Sidestory II: Mikurion Dollar Baby

, Volume 9:

The Disappearance of Haruhi Suzumiya: Epilogue

,

Parallel Sidestory III: The Message from Meiji 38, All Clear Out Here

, Volume 11:

Red Data Elegy

, Volume 12:

The Disappearance of Haruhi Suzumiya ~Another Day~

(

Intrigues

prologue), Volume 13:

Welcome to the House of Terror

Official
Spinoffs
Official
Parodies
Third-Party
Anthologies
Others