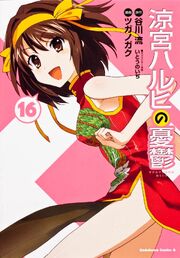 The Melancholy of Haruhi Suzumiya Part 16 (涼宮ハルヒの憂鬱 XVI) (Suzumiya Haruhi no Yūutsu XVI) is a Haruhi Suzumiya Manga volume.
Book Info
Japanese
Release date: March 26, 2012
English
Release date: October 29, 2013
Summary
When a classmate notices that her dog is acting strangely on their daily walks, she asks the SOS Brigade to take on the case-a request Haruhi is more than happy to oblige! After all, any number of supernatural phenomena could be deterring local dogs from a particular area along the riverbank!
Chapters
Wandering Shadow I
Wandering Shadow II
Wandering Shadow III
The Dissociation of Haruhi Suzumiya I
The Dissociation of Haruhi Suzumiya II
 

Haruhi Suzumiya Manga Volumes
Volumes
Individual
chapters

Volume 3:

Knowing Me, Knowing You

, Volume 4:

Mystérique Sign Returns

, Volume 5:

A Perspective of Life from Shamisen

,

Get in the Ring

, Volume 6:

Show Must Go On

,

Tales From The Thousand Lakes

, Volume 7:

The Day of Sagittarius Aftermath

, Volume 8:

Parallel Sidestory I: A Sudden Cinderella Sidestory

,

Parallel Sidestory II: Mikurion Dollar Baby

, Volume 9:

The Disappearance of Haruhi Suzumiya: Epilogue

,

Parallel Sidestory III: The Message from Meiji 38, All Clear Out Here

, Volume 11:

Red Data Elegy

, Volume 12:

The Disappearance of Haruhi Suzumiya ~Another Day~

(

Intrigues

prologue), Volume 13:

Welcome to the House of Terror

Official
Spinoffs
Official
Parodies
Third-Party
Anthologies
Others
Community content is available under
CC-BY-SA
unless otherwise noted.