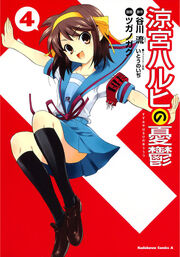 The Melancholy of Haruhi Suzumiya Part 4 (涼宮ハルヒの憂鬱 IV) (Suzumiya Haruhi no Yūutsu IV) is a Haruhi Suzumiya Manga volume. The English version was published in October 2009.
Book Info
Edit
Japanese
Edit
Kyon's days with Haruhi just get stranger and stranger. Even seemingly simple things like a new logo for the S.O.S. Brigade's website or a beach outing become magnets for weirdness and adventure when Haruhi is involved.
 

Haruhi Suzumiya Manga Volumes
Volumes
Individual
chapters

Volume 3:

Knowing Me, Knowing You

, Volume 4:

Mystérique Sign Returns

, Volume 5:

A Perspective of Life from Shamisen

,

Get in the Ring

, Volume 6:

Show Must Go On

,

Tales From The Thousand Lakes

, Volume 7:

The Day of Sagittarius Aftermath

, Volume 8:

Parallel Sidestory I: A Sudden Cinderella Sidestory

,

Parallel Sidestory II: Mikurion Dollar Baby

, Volume 9:

The Disappearance of Haruhi Suzumiya: Epilogue

,

Parallel Sidestory III: The Message from Meiji 38, All Clear Out Here

, Volume 11:

Red Data Elegy

, Volume 12:

The Disappearance of Haruhi Suzumiya ~Another Day~

(

Intrigues

prologue), Volume 13:

Welcome to the House of Terror

Official
Spinoffs
Official
Parodies
Third-Party
Anthologies
Others
Community content is available under
CC-BY-SA
unless otherwise noted.