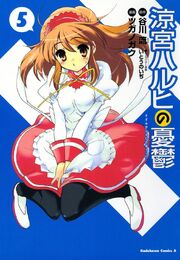 The Melancholy of Haruhi Suzumiya Part 5 (涼宮ハルヒの憂鬱 V) (Suzumiya Haruhi no Yūutsu V) is a Haruhi Suzumiya Manga volume. The English version was published on March 23, 2010.
Book Info
Edit
Japanese
Edit
Release date: October 26, 2007
Release date: March 23, 2010
It's summer break, but not for the SOS Brigade! With only a month of vacation left, Haruhi has devised a plan to pack as much fun as possible into their final days of freedom. But is Kyon up for the "endless summer" Haruhi has in mind?
Endless Eight I
Endless Eight II
 

Haruhi Suzumiya Manga Volumes
Volumes
Individual
chapters

Volume 3:

Knowing Me, Knowing You

, Volume 4:

Mystérique Sign Returns

, Volume 5:

A Perspective of Life from Shamisen

,

Get in the Ring

, Volume 6:

Show Must Go On

,

Tales From The Thousand Lakes

, Volume 7:

The Day of Sagittarius Aftermath

, Volume 8:

Parallel Sidestory I: A Sudden Cinderella Sidestory

,

Parallel Sidestory II: Mikurion Dollar Baby

, Volume 9:

The Disappearance of Haruhi Suzumiya: Epilogue

,

Parallel Sidestory III: The Message from Meiji 38, All Clear Out Here

, Volume 11:

Red Data Elegy

, Volume 12:

The Disappearance of Haruhi Suzumiya ~Another Day~

(

Intrigues

prologue), Volume 13:

Welcome to the House of Terror

Official
Spinoffs
Official
Parodies
Third-Party
Anthologies
Others
Community content is available under
CC-BY-SA
unless otherwise noted.